VIVOSUN is proud to announce the arrival of the GrowHub Controller and App, the new digital control hub for the VIVOSUN Smart System.
The VIVOSUN GrowHub Controller is a powerful all-in-one control system that connects all your growing equipment to a single platform and adds functions like environmental stabilization, climate control personalization, professionally designed automatic grow modes, environmental monitoring, and cross-platform compatibility.
The Wifi-enabled VIVOSUN GrowHub also connects to the VIVOSUN App to simplify the complexities of growing to an easy and fun experience, regardless of your growing knowledge! And with the App, you can monitor and adjust your environment from anywhere and at any time!
Let's take a look at all of the new features introduced by the VIVOSUN GrowHub Controller.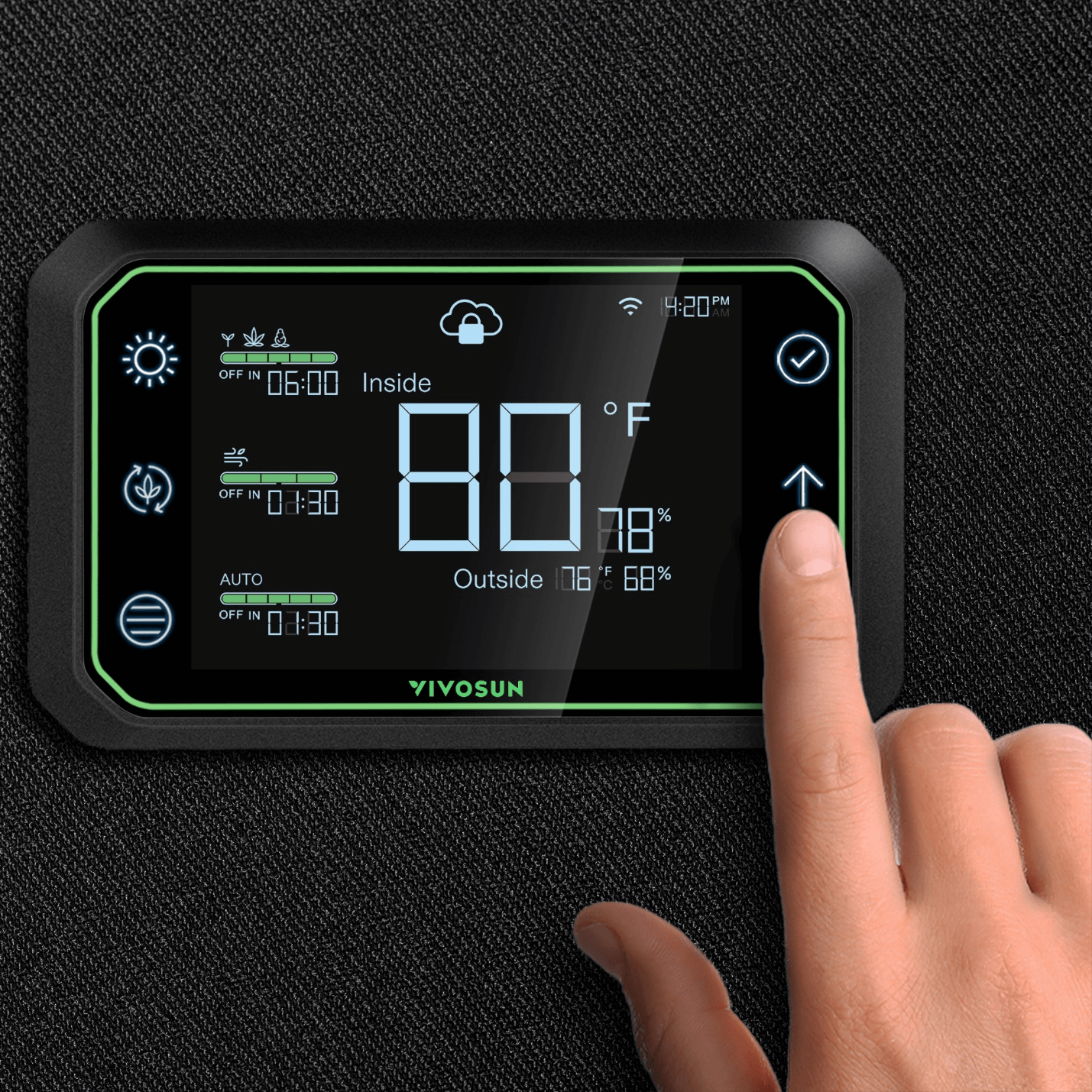 Unify Your Growing Equipment -VIVOSUN GrowHub Controller
The GrowHub Controller and VIVOSUN App unify the most important environmental control equipment in your grow space: LED lighting, inline duct fan ventilation, and air circulation. The GrowHub Controller supports more devices than would ever fit in a single tent, and it can control all of them simultaneously so you can create a growing environment with equipment that works in unison or independently.
Use GrowHub Controller to set environmental parameters for all equipment so they can scale together, or set each device to operate independently to fit your specific environmental needs. The controller can connect across multiple tents so you can stabilize multiple environments simultaneously, and through the Grow Recipes growers can automate lights like our AeroLight, ventilation like the AeroZesh, and even circulation. And by controlling all equipment independently the GrowHub Controller allows more experienced growers to fine-tune their space to the exact parameters they need.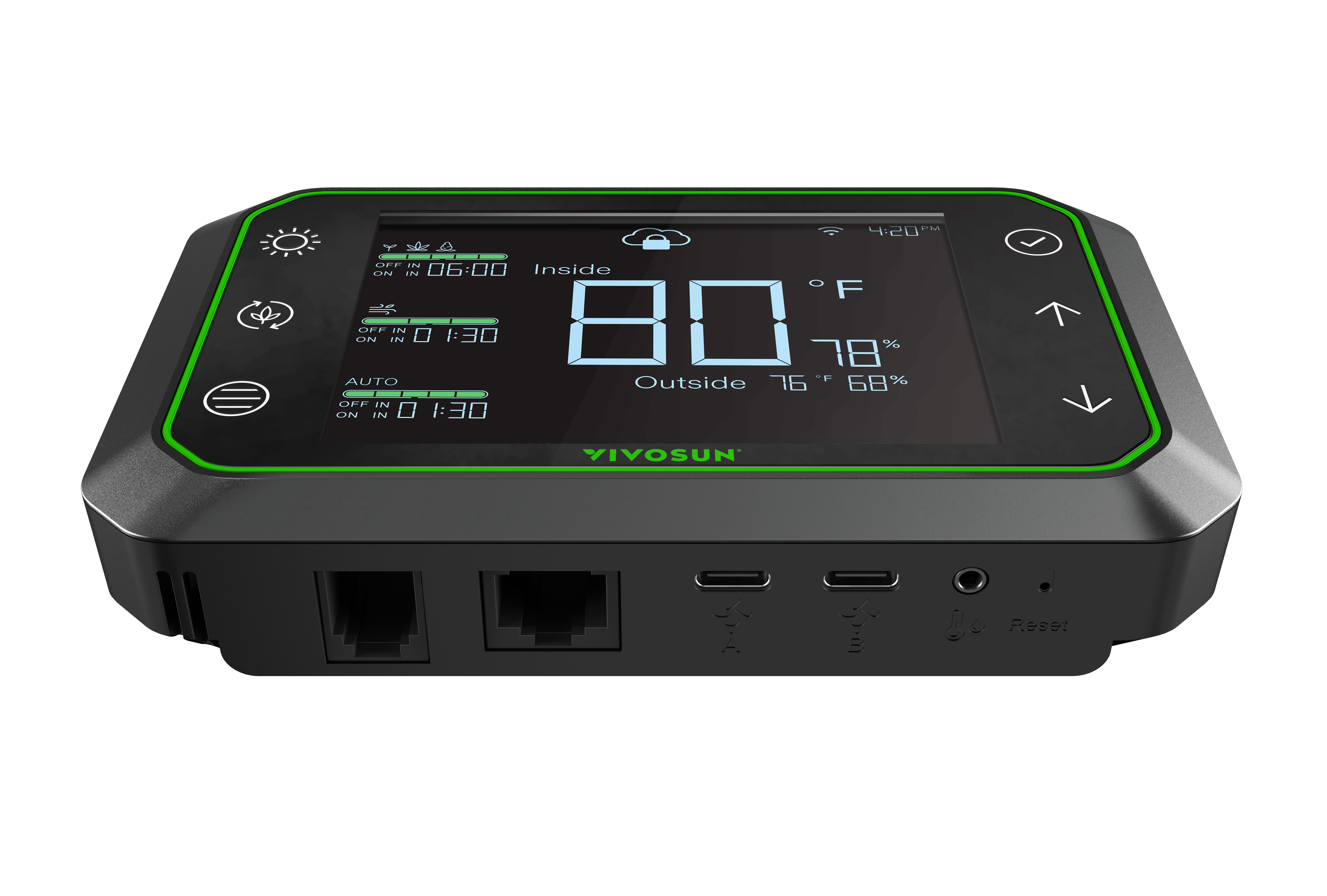 The VIVOSUN App
Everything you can do on the GrowHub Controller you can also do through the VIVOSUN App. The App controls equipment operation, tracks environmental conditions, and has programmable triggers and timers that alert you if there have been changes outside your parameter threshold in your grow space. Through the app, you are not only able to track the current conditions, but you are also able to review past conditions and performance. The App gathers data on photoperiods, light intensity, spectrum range, fan speeds, temperature, and humidity and presents them in an easy-to-read display.
What's more, the GrowHub Controller is WiFi-enabled so you do not need to be home to be able to monitor your space. Whether you're traveling across the world or across town, you'll always be able to monitor and adjust your growing environment.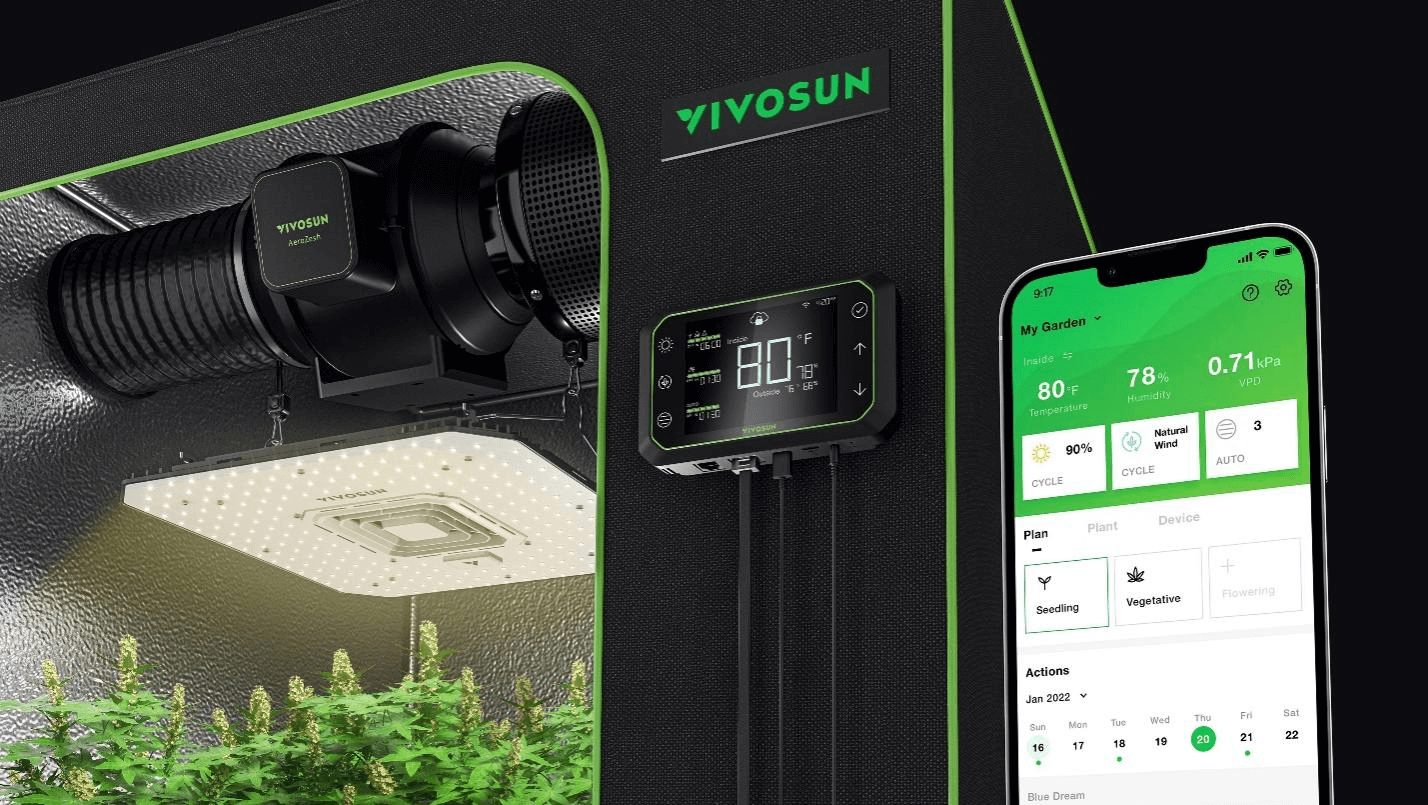 Alerts and Environmental Monitoring
The GrowHub Controller monitors temperature and humidity inside and outside your grow space through two environmental probes, one built into the Controller and the other attached to a wire that can be placed in the optimal location for measurements. This helps ensure that GrowHub Controller is monitoring the correct information, so you can make better decisions when creating Grow Recipes. These probes are the first line of defense for your plants—if there is a change in humidity or temperature outside your preset range, the GrowHub will alert you through the App so you can react before there is a problem.
The GrowHub Controller also connects to your LED and ventilation systems and monitors their activity including on and off schedules, light intensity, spectrum range, and fan speed, which is also presented through the App as your Grow Diary. Your Grow Diary can then be used to determine the perfect environmental parameters for your tent.
Automatically Grow from Seed to Harvest
Each GrowHub Controller and App features preprogrammed Grow Recipes that have been designed by a team of professional growers to take your plants from seedlings to flowering beauties. These automated recipes control lighting, on/off periods, spectrum, and ventilation, and monitor temperature and humidity to match each stage of growth so you can set it and forget it and know your plants are happy and healthy.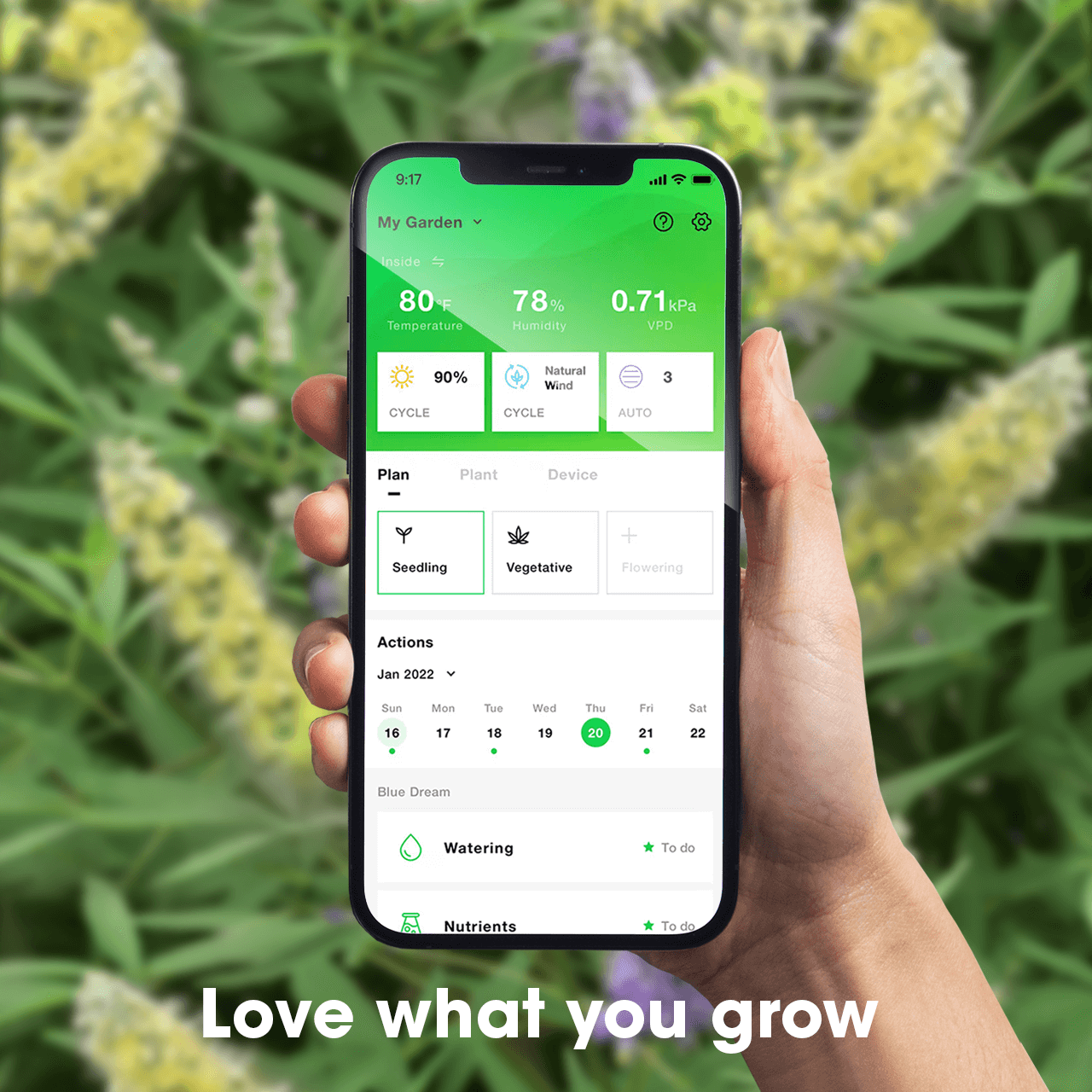 Customizable Grow Recipes
For growers who have their own growing preferences, Grow Recipes are a powerful tool. Using data that has been collected by the GrowHub Controller, growers can identify the specific parameters that have made their harvest a successful one and can create custom temperature and humidity limitations for the perfect grow. Through Grow Recipes, you can establish an entire grow schedule before you even plant your first seed and the VIVOSUN Smart Grow System will take care of the rest. And if you ever need to make changes you can do so through the VIVOSUN App at the touch of a button.
The GrowHub Controller features a sleek design with an LED screen with a bright display that can be programmed to be automatically turned. The display uses easy-to-read working indicator bars to visualize the operational intensity of your devices in a way that is intuitive and quick to reference when needed. Around the outside of the display are six capacitive buttons that are more responsive and reactive to the touch without putting too much pressure on the tent fabric, and they create a smooth, glossy surface. The Controller also features a unique magnetic mounting plate so it can be installed on the exterior of any tent on the market without extra equipment or ugly plastic holders.
Why VIVOSUN GrowHub Controller?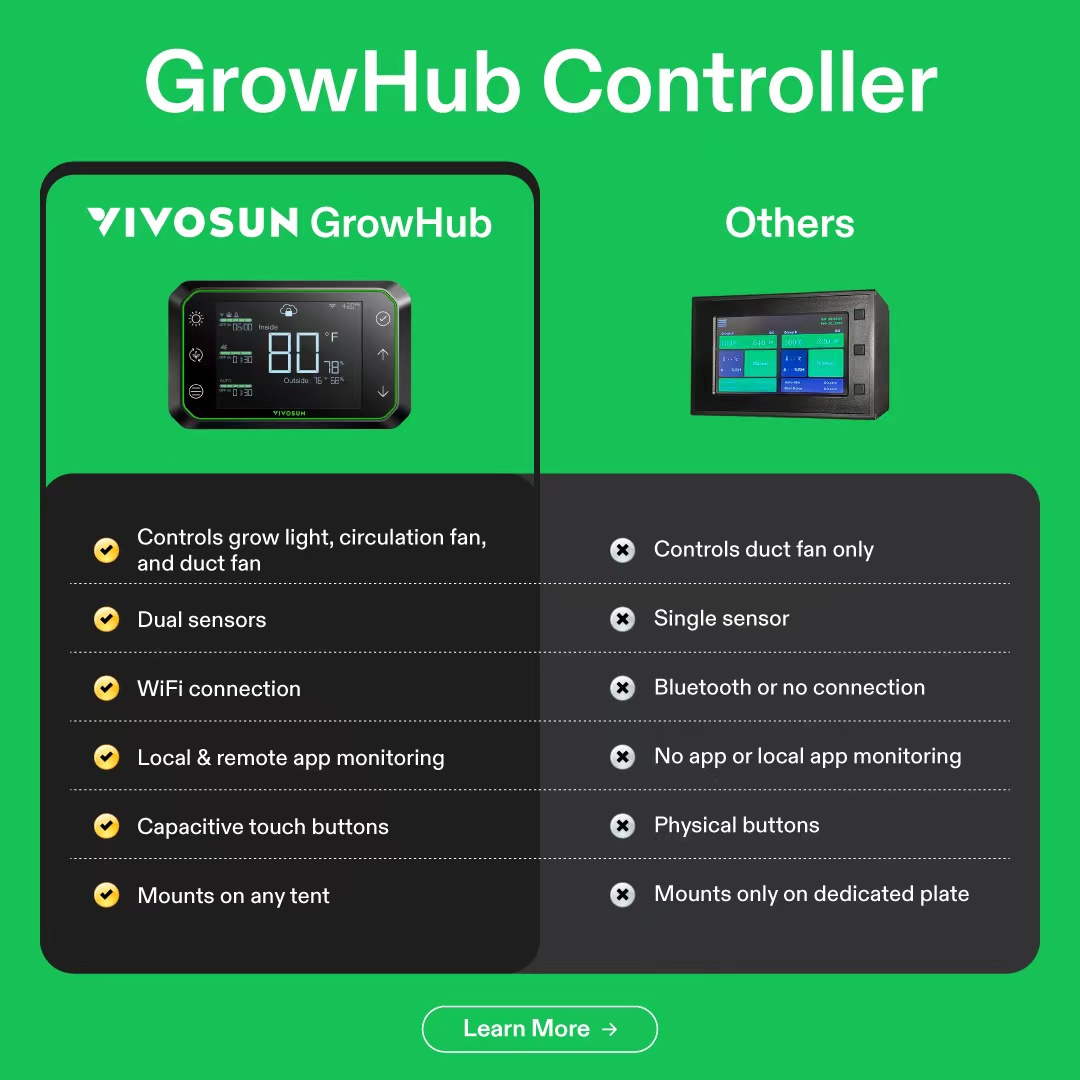 Unboxing VIVOSUN GrowHub Controller
The VIVOSUN GrowHub Controller is now available through our website and is ready to be integrated into our LED grow lights, the AeroLight, and the AeroZesh.
If you have any questions, please don't hesitate to reach out to us!
And be sure to check out our other blog posts for useful tips on becoming a great grower!
Subscribe to the VIVOSUN newsletter for growing tips, grower stories, and special offers, and get 12% off your first order!
We love the new VIVOSUN Smart Grow System and we are certain that you too will love it once you try it.
And join our Facebook farmer's community for even more exclusive contests and prizes!
Download VIVOSUN App to get 18% off and explore more information!