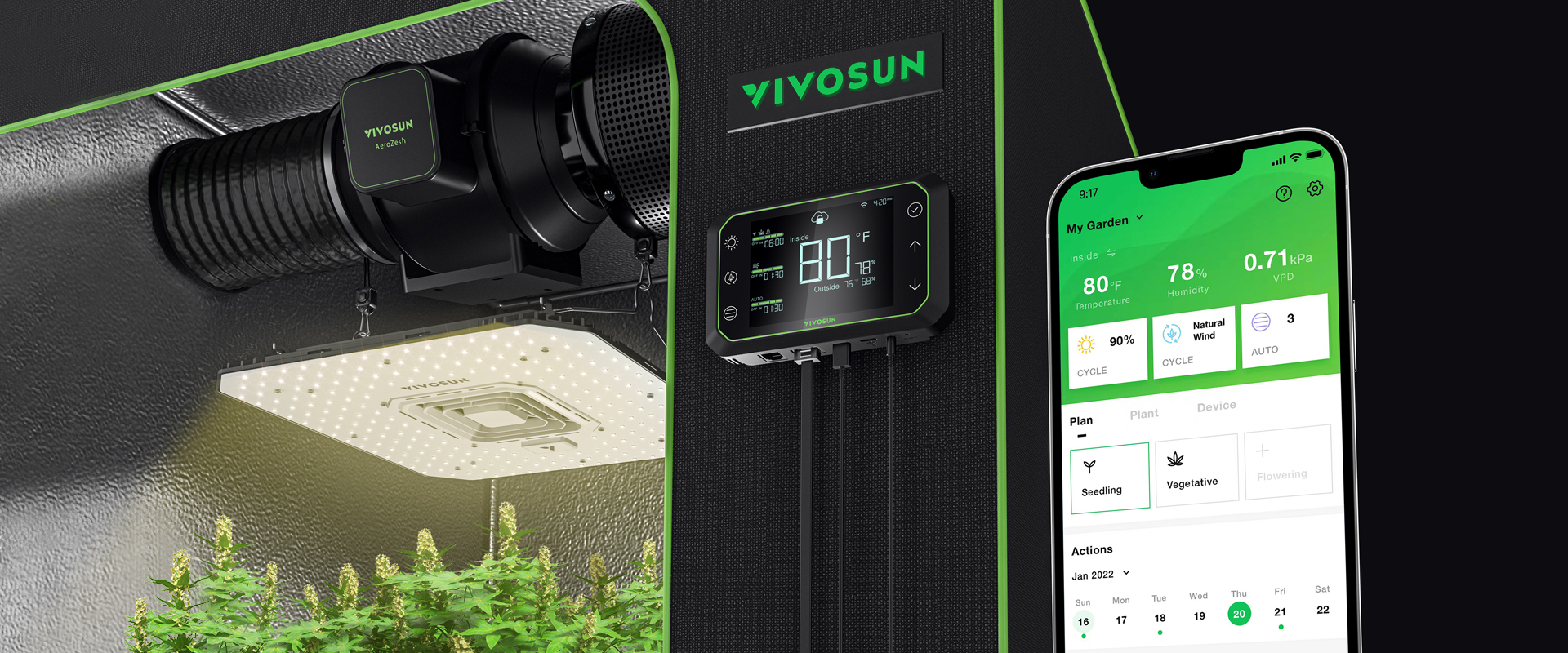 In 2022, VIVOSUN released the Smart Grow System, its name for a number of products that connect to one another through the GrowHub Controller, which acts as a single hub for synthesizing smart equipment. The Smart Grow System has made a significant impact on the growing market since its release – it has demonstrated that the previous technology has a lot of room for improvement in terms of automation, customization, interconnectivity, and mobility. These are the strengths of the Smart Grow System: it establishes a new baseline of what consumers should expect from future equipment and does so in an easy-to-use way. In particular, this ease of use is expressed best by the VIVOSUN App, but the AeroLight, AeroZesh, and the GrowHub Controller can be rolled into singular functionality.
The VIVOSUN App relies on the GrowHub Controller to function: each device is attached to the controller through Aux, RJ45, and RJ11 ports. Once connected, the controller reads and displays the operational parameters. When you pair the controller with the app it automatically connects to WiFi and synchs with the app, which displays the connected equipment. All functions are controlled through the app in simple to read graphs and sliders that make changing things like spectrum, on and off schedules, fan speed, and light intensity as easy to do as pressing a button. Further, the App comes loaded with VIVOSUN ' s own recommended " Grow Recipes. " This programming includes adjusting photoperiods, intensity, light spectrum, fan speed & air volume, on and off timing, circulation rates, and even a way to program equipment to match the stages of growth a plant is going through.
What stands out about this system is how easy it is to automate growth – this even includes automatically switching between stages of growth (for example, switching from an 18/6 light cycle to a 12/12 light cycle, done so based upon professional Grow Recipes). VIVOSUN says this feature became possible through hours of researching and
developing the perfect spectrum fit for each stage of growth along with calculated photoperiods. An exciting feature for beginner growers, automatic growth provides a way to "set it and forget it," and let the VIVOSUN Smart Grow System do the rest.
Further, the VIVOSUN App, being connected to the controller, monitors and records changes in the environment. When changes occur that cause either humidity or temperature levels to reach above or below set parameters, the App will send a notification, alerting you to what the problem is. With the other smart settings in place, this may happen rarely, but talk about peace of mind.
While the App is the brain to the system, the AeroLight is undoubtedly the centerpiece: It's a full-spectrum, fully programmable LED grow light that uses the newest Samsung 301B diodes that emphasize blue, red, UV, and far-red spectrum for efficient plant and flower growth. What sets the AeroLight apart is a built-in circulation fan that is placed in the center of the system. This position is the best place for a fan since it's both close to the plant and directly above the canopy, meaning airflow to the canopy is not hindered by distance or angle. AeroLight grow lights are fully programmable with the VIVOSUN GrowHub so growers can establish light intensity, program photoperiods, and even mimic natural wind and sunrises and sunsets inside their tent. But what stands out is the ability to tune light spectrum according to growth period so the AeroLight always matches the maturity of the plant.
The VIVOSUN GrowHub Controller controls the fan as well, which is built with dual ball bearings for quiet operation and longer life of 70,000 hours. This latest generation of smart grow lights also features an H-bracket that helps connect and extend the AeroLight system from 100W to 400W across a larger space so growers can link multiple AeroLights together to cover different grow space sizes.
Finally, the last piece of equipment that helps balance the entire environment is the AeroZesh, VIVOSUN's smart inline duct fan that comes in multiple sizes. The AeroZesh is a PWM-controlled EC fan that utilizes a mixed flow design to create high static pressure, so air volume increases while noise is reduced thanks to a dual ball bearing design. The design brings VIVOSUN's ventilation to a new level, one that allows growers to control the minutiae of airflow, which in turn helps them control temperature and humidity.
The AeroZesh also has a built-in environmental probe that measures humidity and temperature and through that, it communicates with the Controller, which in turn tells the fan to turn off or on or to increase or decrease speed.
The Smart Grow System represents a brand new, easier to use kind of equipment that is accessible to everyone, regardless of skill or experience. By including functions like automatic growth, VIVOSUN has effectively eliminated worries about going on trips or having to constantly monitor move equipment around. The system has been a major milestone in the industry and we can already see other companies beginning to release their own versions of the Smart Grow System that mirror the functions pioneered by VIVOSUN. The Smart Grow System has been a boon to growers, from beginners to experts, who have found a new degree of capability that has been largely ignored by the industry until now.
The original article is from WeedRepublic. Many thanks!
Subscribe to VIVOSUN newsletter for growing tips, grower stories, special offers and get 12% off your first order!We love the new

VIVOSUN Smart Grow System

and we are certain that you too will love it once you try it.And join our Facebook farmer's community for even more exclusive contests and prizes!Download

VIVOSUN App

and explore more!