VIVOSUN is happy to announce the release of the VIVOSUN AeroZesh, our new ventilation fan system designed with usability, power, and efficiency in mind. The AeroZesh is our first ventilation fan integrated into our Smart Grow System, our system of intelligent products connected to the internet through the VIVOSUN GrowHub Controller. As a smart device, the AeroZesh helps growers control their environment better by synthesizing with the parameters you define on the GrowHub Controller and VIVOSUN App. Let's take a look at the features of the VIVOSUN AeroZesh.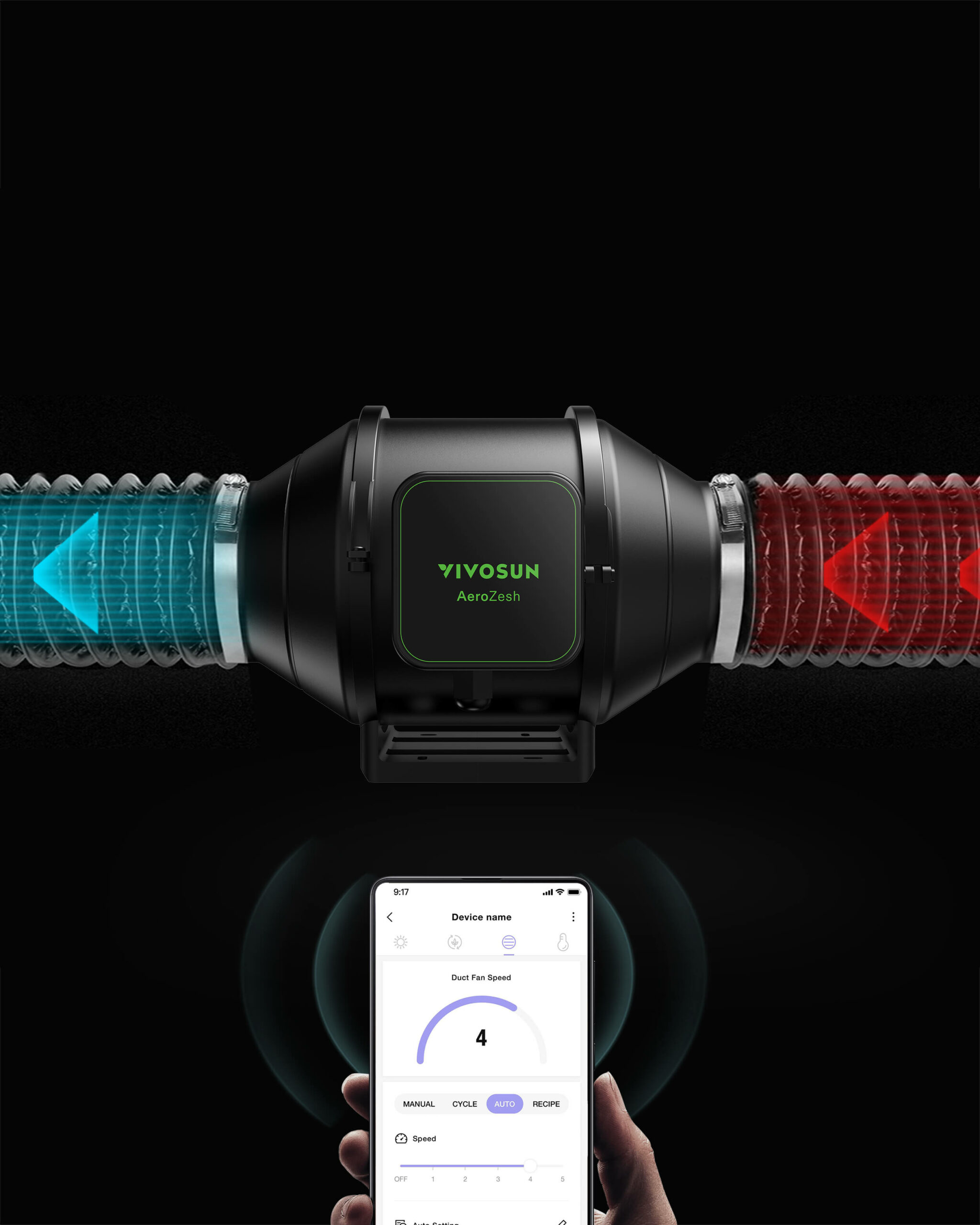 Integrated Smart Grow Device
We are most excited about how the VIVOSUN AeroZesh joins together with the rest of the Smart Grow System. By integrating ventilation into the system, you will be able to develop completely automatic control over your grow space. So what does this mean, and how does this work? The AeroZesh has a built-in environmental probe that measures temperature and humidity.
When connected to the GrowHub Controller, AeroZesh sends these measurements through the GrowHub Controller to your VIVOSUN App. Through the App, you can utilize the data to make adjustments to airflow—increasing airflow helps manage temperature and humidity. And when you use Grow Recipes, you can pair VIVOSUN AeroZesh's operation with lights and your circulatory fan to completely balance the environment. And the AeroZesh can be adjusted easily through the App with intuitive sliders.
Efficient Ventilation
The VIVOSUN AeroZesh comes in multiple sizes to fit various tents, 4", 6", and 8" in diameter and the airflow varies based on these sizes so please check the product page for details on CFM. That said, airflow is also dependent on fan speed, and with variable fan speeds the AeroZesh is always able to meet whatever requirements you have for your tent. Because AeroZesh reacts to your environment, you can ensure that you run it only when you need it. And since the VIVOSUN AeroZesh is a PWM-controlled EC fan that utilizes a mixed flow design to create high static pressure it increases air volume while reducing noise.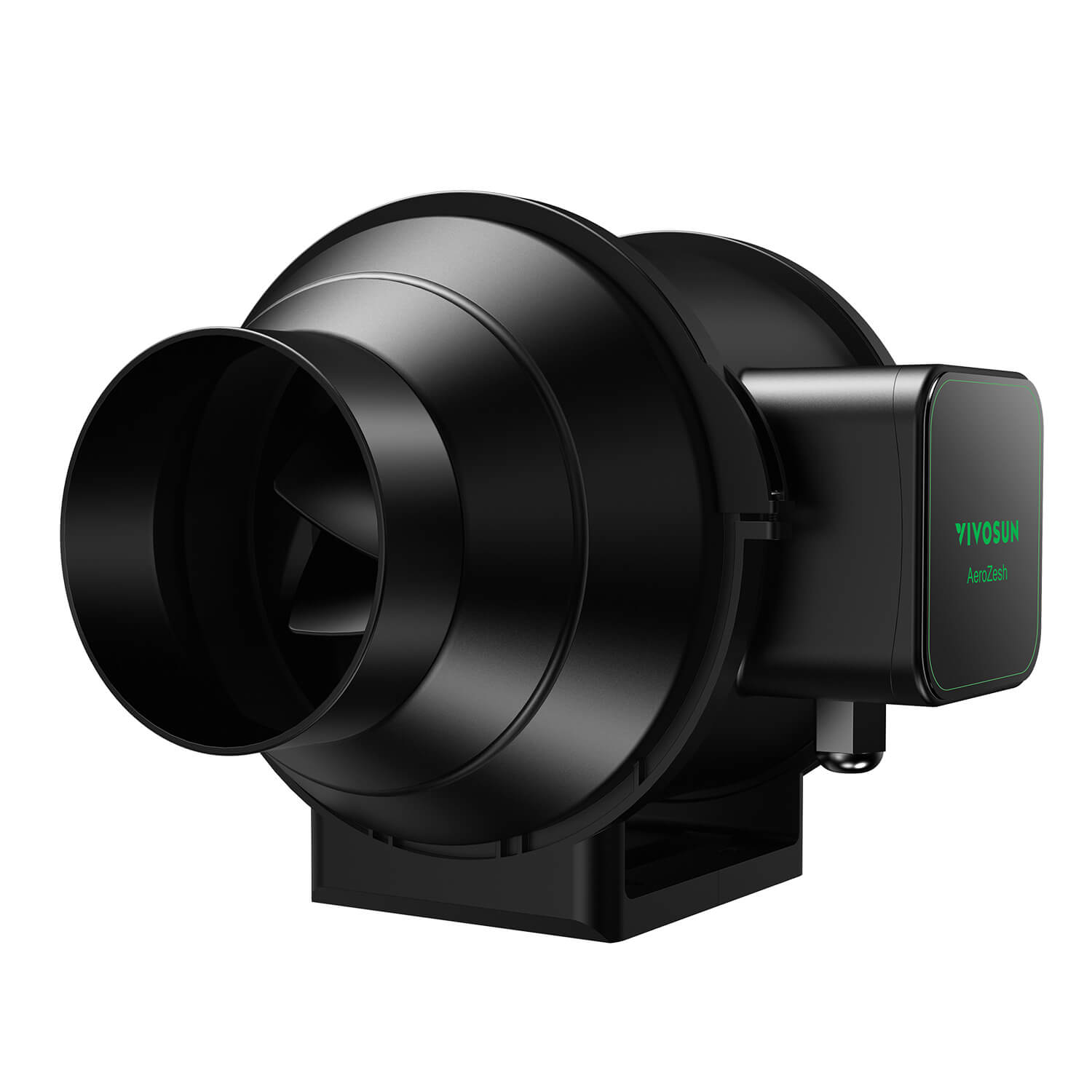 Entirely Programmable
Programmability is the most important part of the Smart Grow System because it allows growers to exercise the autonomy and ease of growing that makes growing such a fun and exciting thing to do. The VIVOSUN AeroZesh is also completely integrated into this system and, through Grow Recipes, can be programmed to operate automatically.
Through this automatic operation, the AeroLight is, through the VIVOSUN App, able to alert growers to changes that occur in their grow space that are outside of normal working parameters. Set everything including fan speed, on/off times, and automatic reactions to changes in temperature and humidity from your phone so you can monitor, adjust, and react to your growing environment from the office, from the airplane, or from your favorite café in Rome.
Optimize Indoor Growing
Ultra-powerful and adjustable, the VIVOSUN AeroZesh can be used in various sizes of spaces. The AeroZesh comes with a long power cable, and an easy-install mounting plate, and can be attached to most wooden surfaces or it can be hung from the support bars in your tent. It can also be used with normal ducting, silencers, or filters.
If you have any questions, please don't hesitate to reach out to us!
And be sure to check out our other blog posts for useful tips on becoming a great grower!
Subscribe to the VIVOSUN newsletter for growing tips, grower stories, and special offers, and get 12% off your first order!
We love the new VIVOSUN Smart Grow System and we are certain that you too will love it once you try it.
And join our Facebook farmer's community for even more exclusive contests and prizes!
Download VIVOSUN App to get 18% off and explore more information!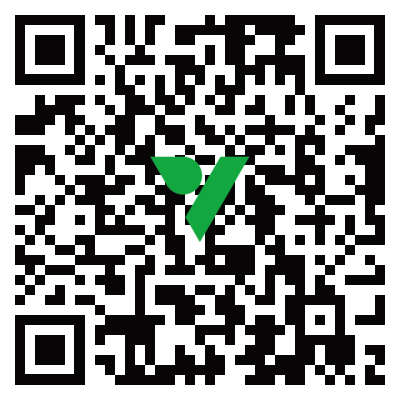 You may also like articles about VIVOSUN AeroZesh:
All You Need to Know! VIVOSUN Smart Grow System FAQs 2022
VIVOSUN App: Automatic Growth, Wherever You Are
VIVOSUN GrowHub Controller—Discover How the GrowHub Will Change the Way You Grow