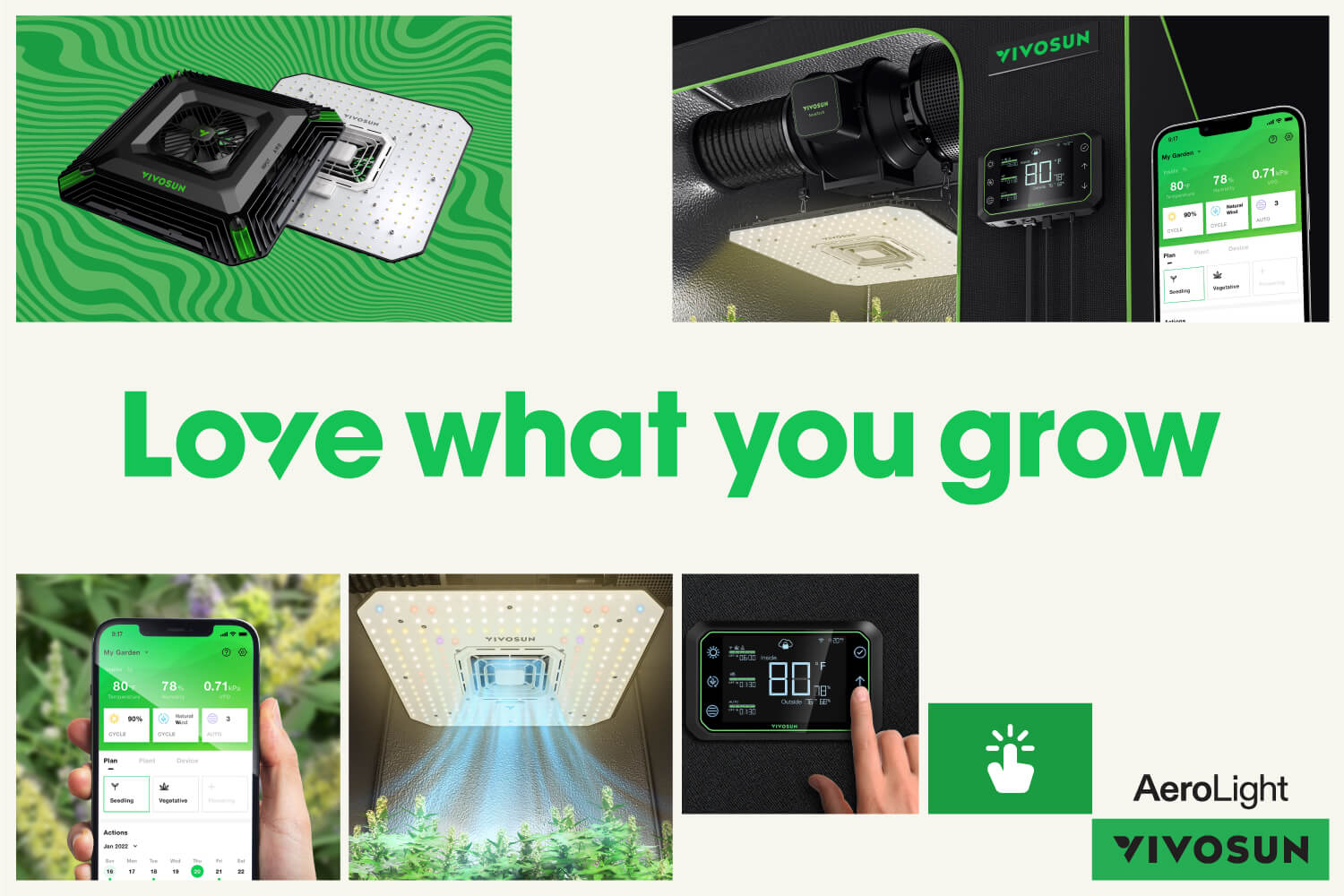 VIVOSUN is proud to announce the all-new AeroLight, the first-ever LED grow light system with a fully integrated circulatory fan (patent pending), as a part of the VIVOSUN Smart System. And VIVOSUN AeroLight is also the 2022 Red Dot award-winning. By placing a circulatory fan directly in the center of the grow light, the AeroLight of VIVOSUN finds the best position to provide air circulation, improve CO2 exposure, promote photosynthesis, encourage uniform humidity and temperature, and reduce the risk of disease, rot, and mold.
With the integrated fan, getting airflow into the canopy is no longer an issue. The VIVOSUN AeroLight utilizes unique airflow fins that pull cool air from above the system and direct it into the canopy of your plants below. This dual-ball-bearing EC fan has reduced noise output and a lifespan of up to 70,000 hours of use.
The AeroLight features expertly selected diodes emphasizing UV, blue, red, and far-red light. It is fully compatible with the VIVOSUN GrowHub and VIVOSUN App, which allow for precise spectrum adjustment to match every stage of growth.
Each VIVOSUN AeroLight covers a 2×2-foot space, but growers can easily expand the AeroLight system to cover larger areas.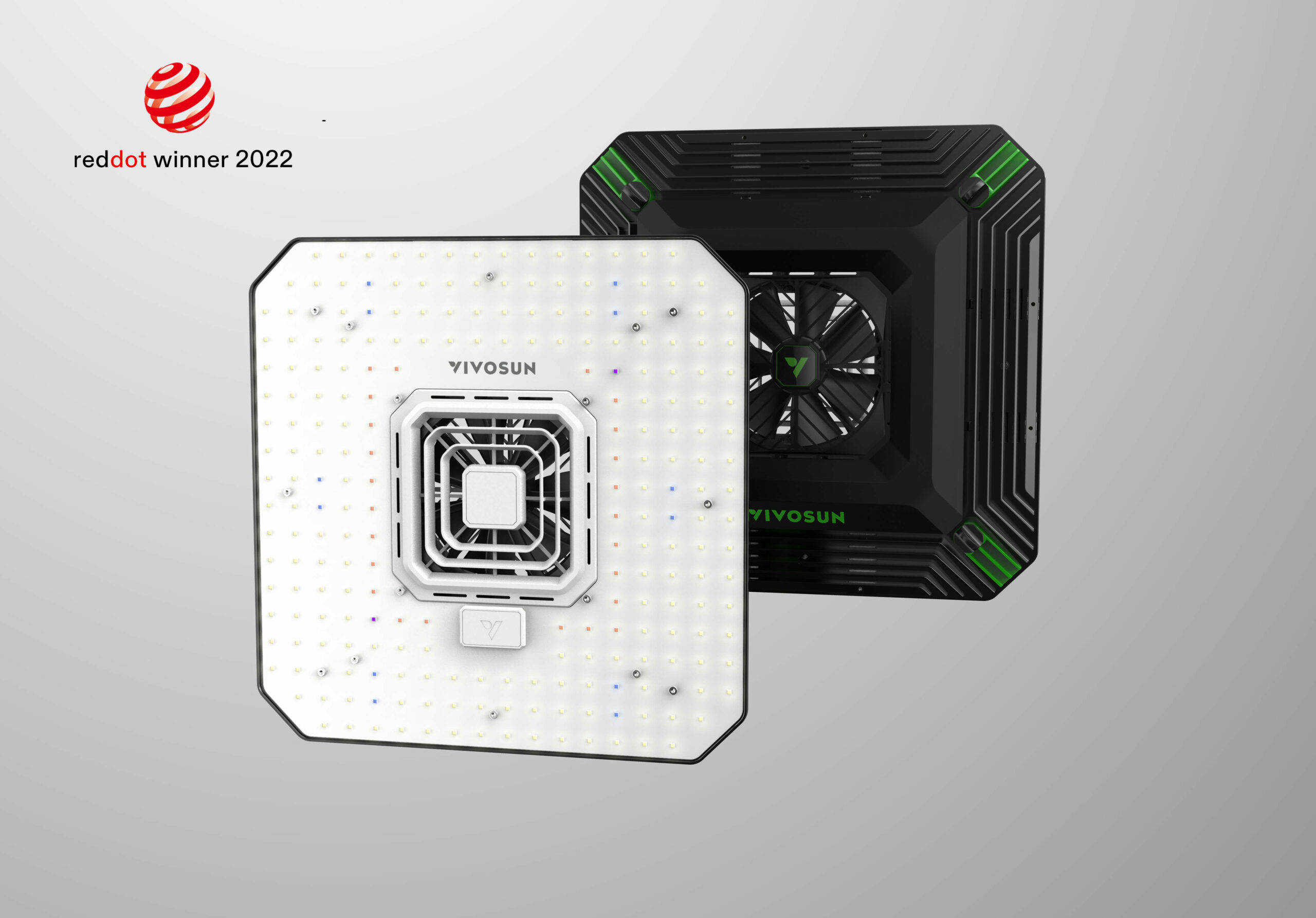 Integrating a circulatory fan directly into a light is a first for the industry, but if you are a seasoned grower, it will feel like a natural progression of growing technology. As professional growers know, good airflow through the canopy encourages resilience and growth, assists in creating uniform temperature and humidity, and reduces the potential for pests. Yet, finding the perfect position for a circulatory fan has been a headache because the perfect position for the fan is exactly where the light hangs.
Enter the VIVOSUN AeroLight with its built-in fan that rests in the perfect position above your plant's canopy. The VIVOSUN AeroLight system creates up/down air circulation that provides cool, fresh air to plants, removing CO2 sedimentation and encouraging healthier growth. It's an elegant solution that will make others say, "Why didn't I think of that?"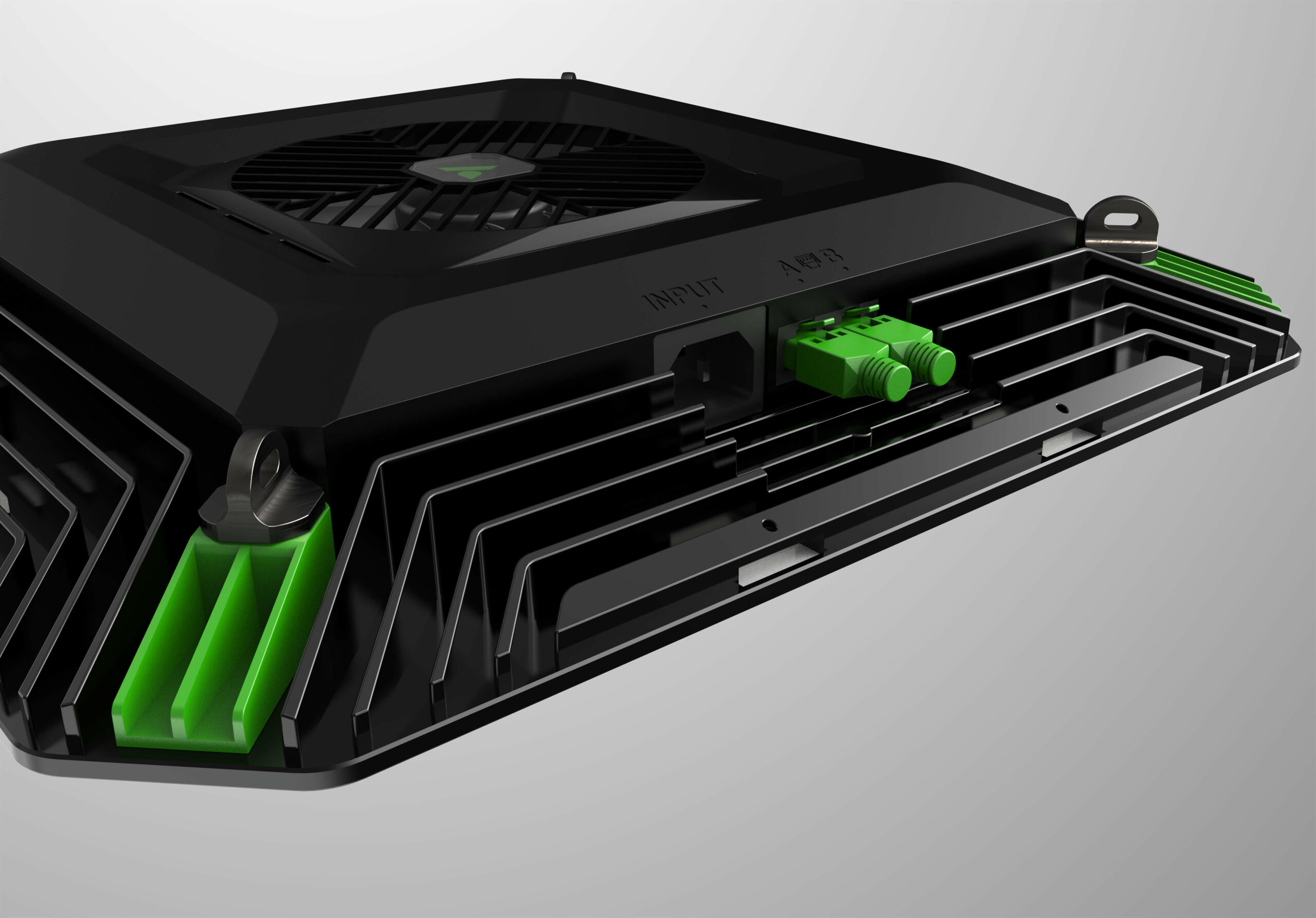 Automated Lighting and Airflow through the VIVOSUN GrowHub Controller and App
The AeroLight is part of the VIVOSUN Smart Grow System, our line of intelligent devices that connect through the GrowHub Controller and App to give you total control over your growing equipment and your growing space environment. Through the GrowHub Controller and App, the AeroLight from VIVOSUN is completely programmable: you'll be able to adjust light spectrum, light intensity, photoperiods, and fan speed at the touch of a button. You can set schedules, track lighting, and fan performance, adjust the light to meet environmental changes, and you can even automate an entire grow, from start to finish, including matching light spectrum and intensity to the stage of growth, through Grow Recipes.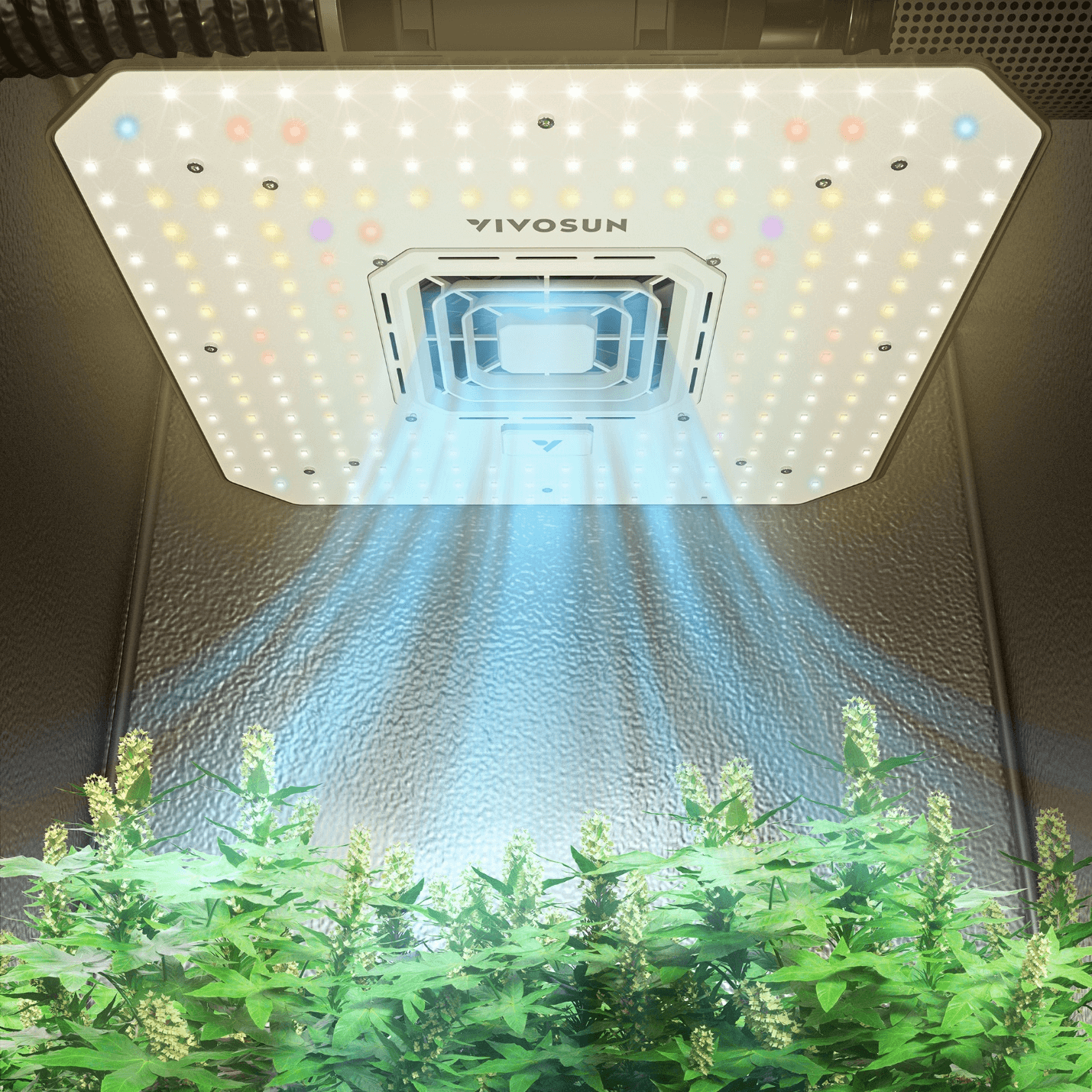 Balanced, Uniform Airflow
Uniform airflow is a crucial component of the VIVOSUN AeroLight system. To ensure that cool, fresh air is moved into the canopy, the AeroLight encases the fan with specially designed airflow fins that pull air from directly above the fan and push the air in a conical shape down into the canopy, ensuring airflow reaches all parts of the plant that are beneath the system. The EC fan is constructed with dual ball bearings so its operation is quiet and it can be used continuously for up to 70,000 hours.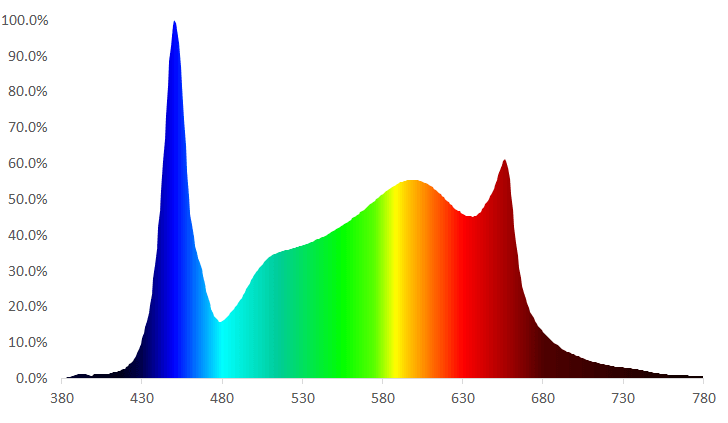 Seedling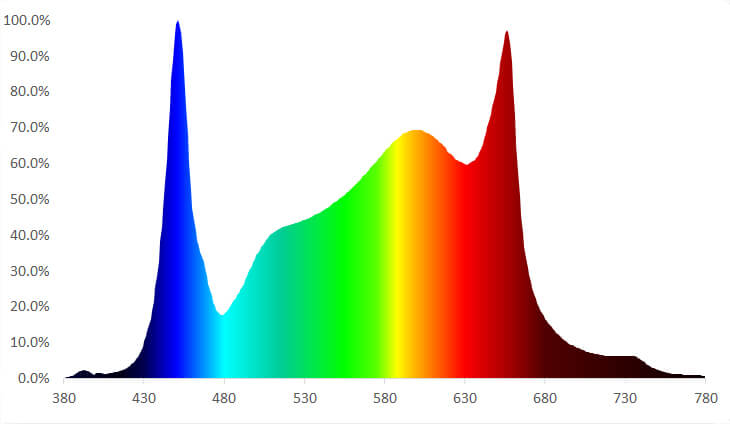 Veg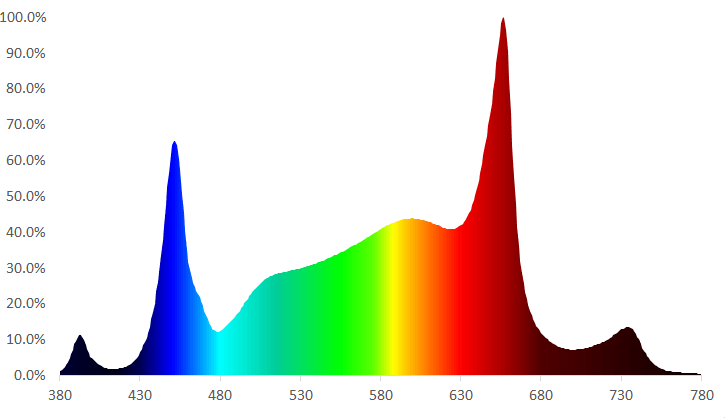 Flower
Improved Spectrum and Coverage
The AeroLight maximizes light coverage by using Samsung 301B diodes in a grid pattern that overlaps directly beneath the fan. Each diode has been carefully designed to provide the greatest spectral range of any 100W light on the market. The diodes produce a perfect, adjustable spectrum to ensure all stages of growth are covered:
390nm (UVA) for better quality harvests
450nm(blue) for seedling and vegetative growth
650nm (red) for flowering
730nm (far-red) for deeper penetration and better flowering
3000K for improved flower growth
5000K for seedling growth
Thermal Control and Heat Dissipation
To maximize the use of high-efficiency LEDs, we have designed a special series of high-quality aluminum heat sink fins that improve on heat radiation by directing heat horizontally and then vertically away from the center of the light. This ensures the air around the fan stays cool and improves the lifespan of the LED system. The heat sink fins also have an American muscle car look.
Saves Space yet Is Expandable for Larger Spaces
As a 100W system, the VIVOSUN AeroLight is perfect for a 2×2-foot space—it is compact and combining the light and fan together saves space in a small grow tent. But some growers will want to increase the amount of room available for their plant. We made the transition to a larger space easy: each AeroLight can be daisy-chained together and secured with our patented H-bracket so growers can expand their lighting system to fit any size space without compromising on airflow or light coverage. And when AeroLights VIVOSUN are connected together they can be controlled by a single GrowHub Controller.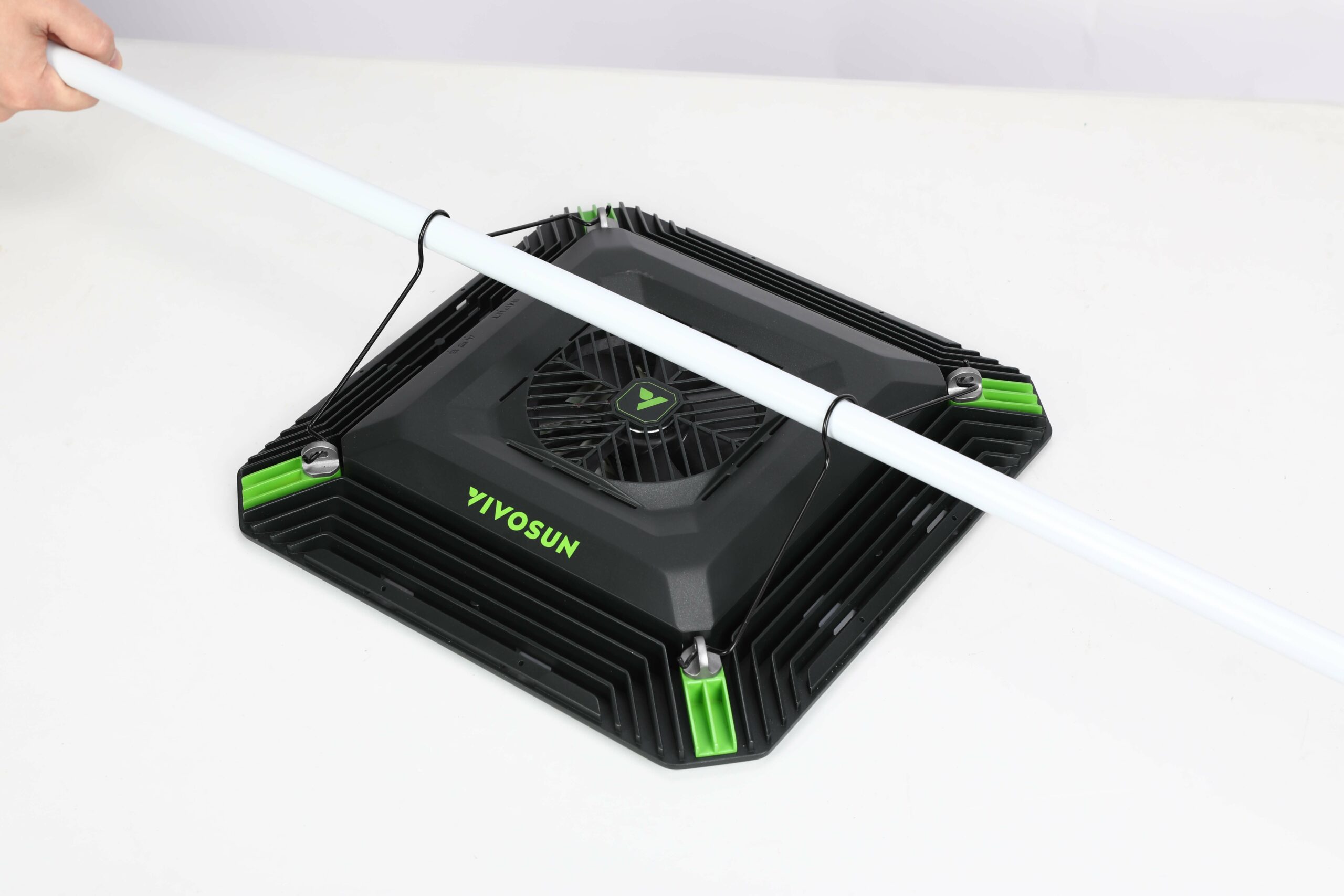 Mimic and Recreate Natural Conditions
The VIVOSUN AeroLight also has some unique features that set it apart from other intelligent grow systems, such as the ability to mimic natural wind and recreate sunrises and sunsets. You can unlock the many special features of the AeroLight through the GrowHub Controller and App or even create your own natural conditions. And through GrowHub Controller, you'll be able to monitor the VIVOSUN AeroLight regardless of where you are in the world.
Why VIVOSUN AeroLight?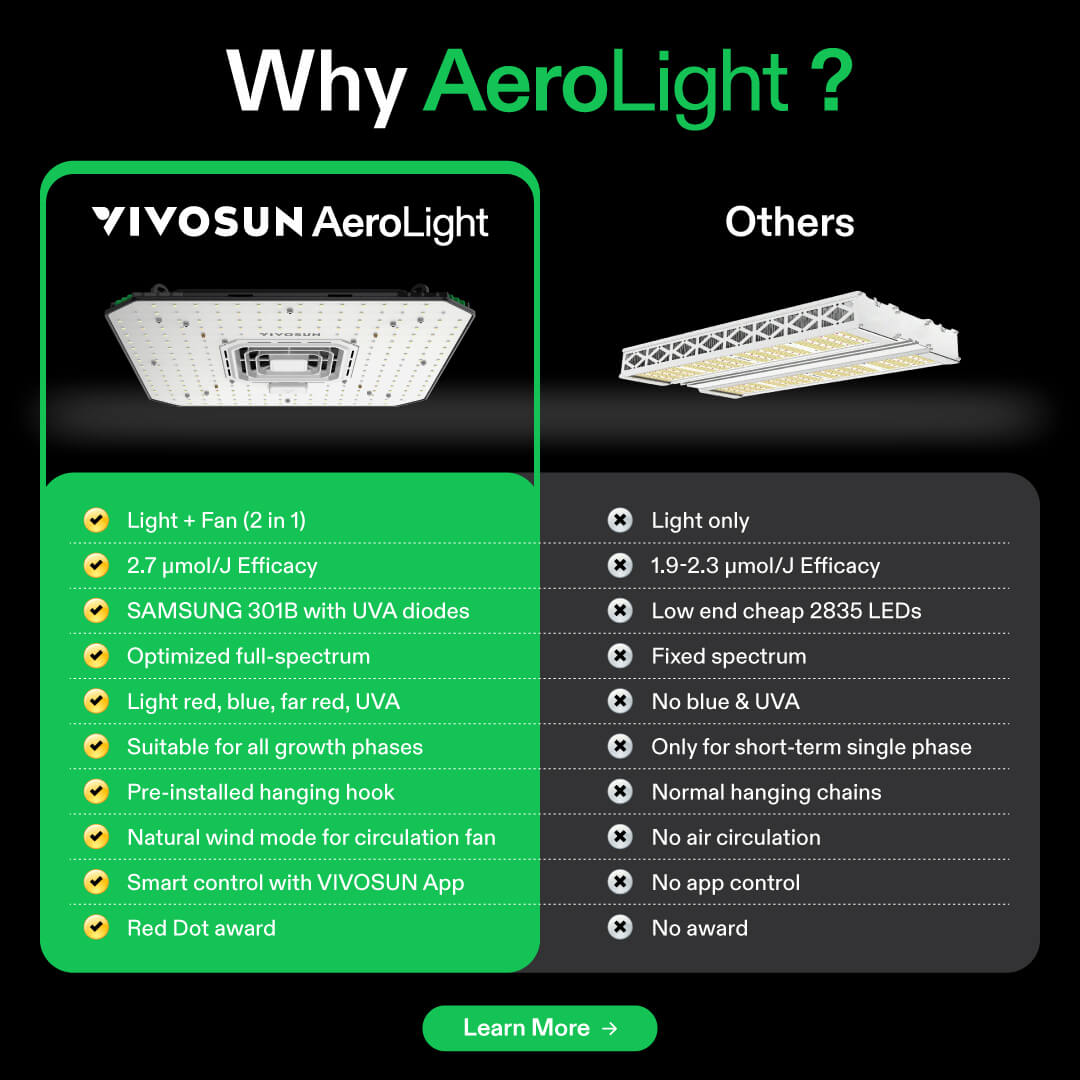 Production Update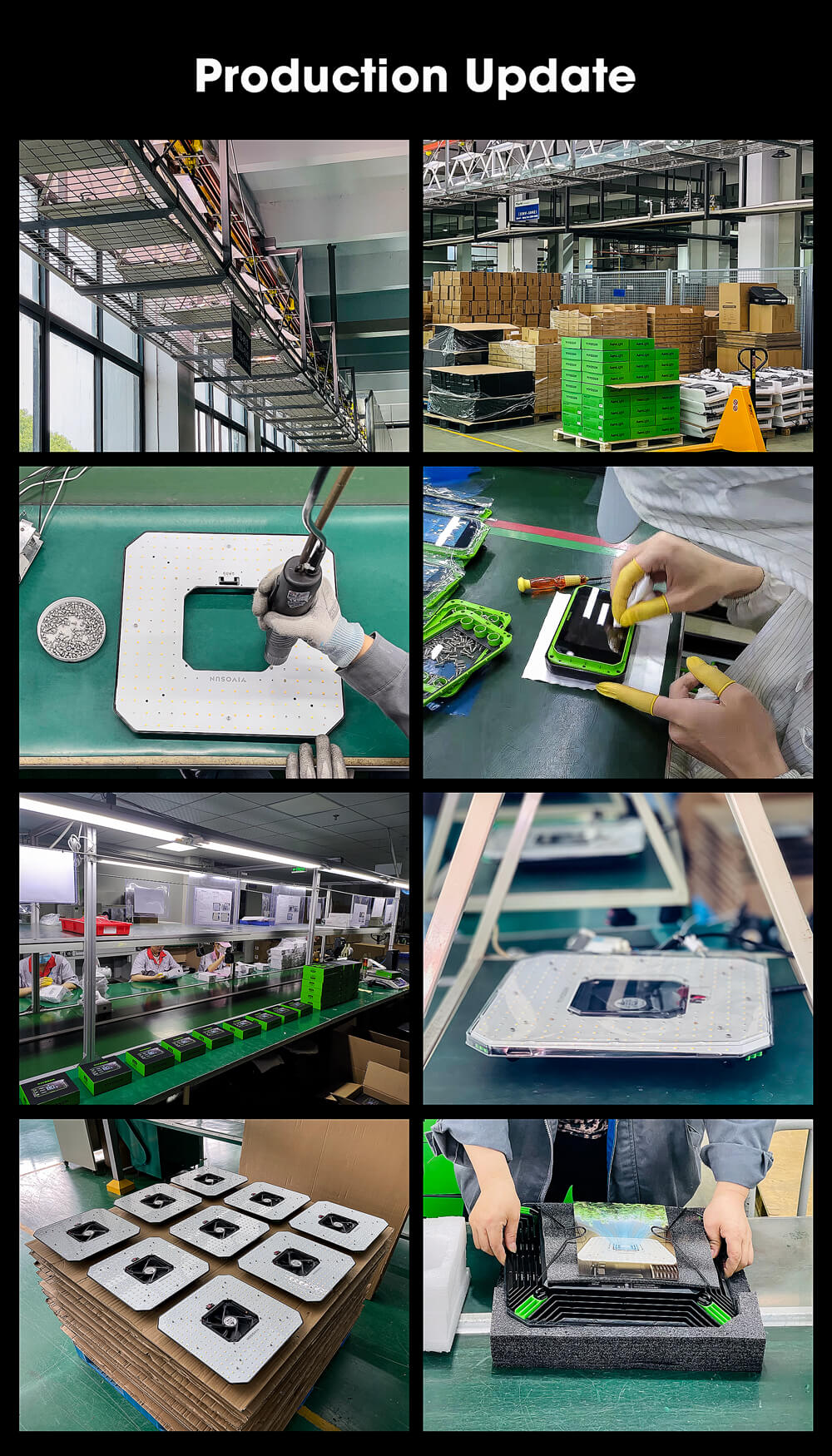 The VIVOSUN AeroLight is now available through our website and is ready to be integrated with the VIVOSUN Smart System, the VIVOSUN GrowHub Controller, and VIVOSUN App, and the AeroZesh.
If you have any questions, please don't hesitate to reach out to us!
And be sure to check out our other blog posts for useful tips on becoming a great grower!
Subscribe to the VIVOSUN newsletter for growing tips, grower stories, and special offers, and get 12% off your first order!
We love the new VIVOSUN Smart Grow System and we are certain that you too will love it once you try it.
And join our Facebook farmer's community for even more exclusive contests and prizes!
Download VIVOSUN App to get 18% off and explore more information!