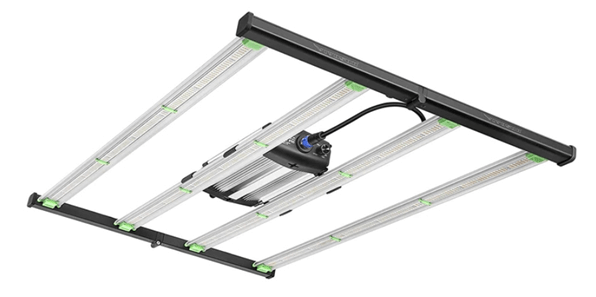 VIVOSUN VS4300
If you are like me, you have spent years searching for the right light. From CFL to HPS, to LED, you have probably tried them all to find the best type of light—I spent weeks, sometimes months, going back and forth on lights, reading reviews online looking for the best value and performance, and then would test out whether the light gave the results I was after.
Up until now, I have been using 2 lights from 2 name-brand companies, but I have never been happy with the results—if the lights were too close they would bleach the plants, if they were too far they would encourage stretching.
And, as always, I had to deal with the ever-maddening even coverage issue: with two lights in my tent, I always had to deal with overly bright and overly dim spots. So, as ever, the hunt for the perfect light continued and I finally stumbled upon the VIVOSUN VS4300.
After I purchased the VIVOSUN VS4300 I had a pang of anxiety: would the light come in a branded box and show the world what I was up to, or would it be packaged discreetly in a box that could contain my secret life? A few days go by and I found a large package on my porch. Low and behold it was plain and unmarked. I drag it inside and immediately cut it open like a kid with his Halloween candy.
VIVOSUN VS4300
First, I pulled out the light, it was nice and folded in half and tucked safely away. Then came the powerhouse of a ballast followed by all the cords and hangers.  In ten minutes, I hung the light, attached the ballast, and plugged the whole beast to see what it could do.
Already, the light provided more even coverage than the two prior lights I had been using—it turned out to be perfect for my 5-by-3-foot tent. The VS4300 measures 51 inches long and 28 inches wide and runs at only 430 watts, which is about 100 watts less than what I had been running before, and less power means less monthly cost. The other cool thing that caught my attention was that I could dial the light intensity back since it has a dimmer switch, so the light can go from 40% to 100%.
Score! I sealed the tent back up and waited for the first official daytime run (OK I admit it, I turned them on during the night cycle).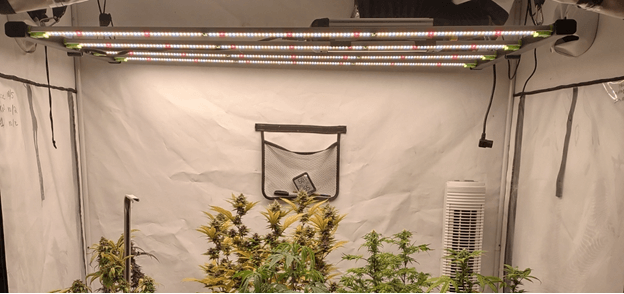 8 pm and I hear the fan switch on. I drop what I'm doing to run to the tent, unzip it and behold this beautiful sight in front of me. I knew it was going to be bright, but this was at another level—I had to go find a pair of sunglasses to even see well enough to do anything in there.
I was shocked that even with the ballast running in the tent the temperature still wasn't reaching above 84 degrees. I let the light run for a few days and my plants were growing faster than ever before: I was still growing the same genetics in the prior set up so I knew how they were doing beneath the other lights.
As my plants grew, they started to reach closer to the light than recommended, but I was not having the same light bleaching issues I had beneath the two other systems. Now I could fill a lot of the extra space in the tent since I didn't have any more low light zones.
The VIVOSUN VS4300 is solving every problem I had to date. That said, even with all the problems it solved, I did face one issue: The included hangers left me with too much overhead space that I could not use so I solved this by switching them out with the ⅛ inch rope hangers. This simple swap gave me a little extra room to raise the lamp if any of my plants stretched too far.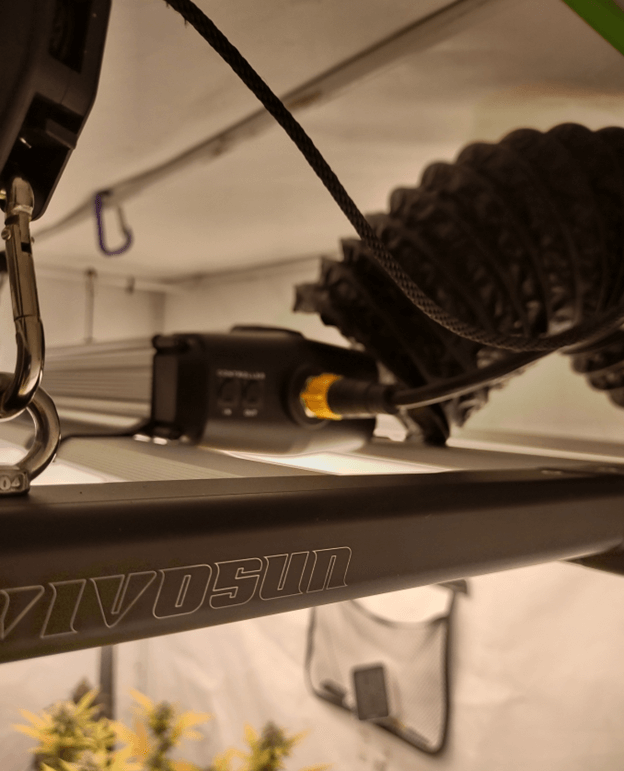 Overall, I am very happy with this VIVOSUN VS4300 light. I went back and forth for months looking for the right one in my price range and, ultimately, settling on this light has been a huge boon to my harvests.
A good lighting system costs a lot of money and isn't easy to find. As a personal home grower, I don't always have the luxury of spending a ton of cash to test out systems, so I need to know all the details before I buy. That said, this system has worked well for me. I don't worry about when have to harvest plants that I've been growing for months having only half the harvest it should be. I don't have to play the plant shuffle trying to find the perfect light spot for each plant.
Now, I can just put them in the extra space and watch them grow. I can't wait to push this light to its limits and see what it can do for my babies! I hope this review sheds some light on the VIVOSUN VS4300 since I want to spread the word about it since it has done so well in my tent.
Now you don't have to look too hard to find an honest review about this light, so check it out and see if it is right for you. And here is also one detailed review, check it out!
A Detailed Look into the VIVOSUN VS4300 LED
As always if you have any questions you can message our Instagram or Facebook and we'll be glad to help you out! We're happy you're on this journey and we want to help in any way we can.
Subscribe to the VIVOSUN newsletter for growing tips, grower stories, and special offers, and get 12% off your first order!
We love the new VIVOSUN Smart Grow System and we are certain that you too will love it once you try it.
And join our Facebook farmer's community for even more exclusive contests and prizes!
Download VIVOSUN App to get 18% off and explore more information!