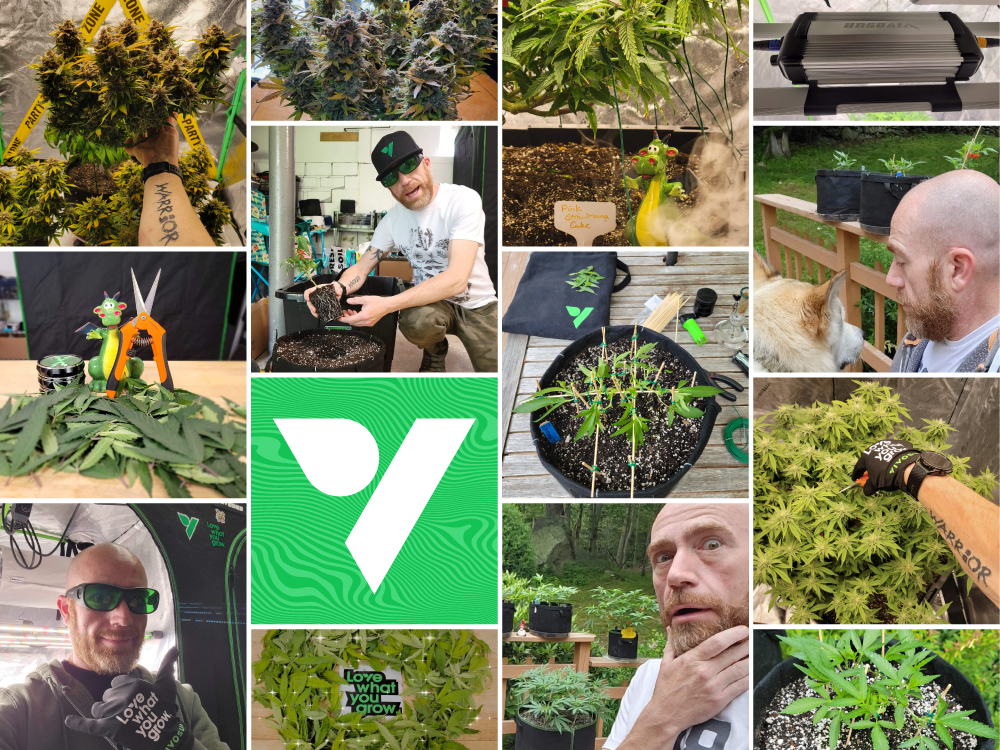 We are excited to recognize our very first VIVOSUN Grower Spotlight: Nicholas Johnson!
Nick is a newer grower who has been growing autoflowers for about 7 months and has a 4-year degree in horticulture. You can see his passion for growing shine through in the pictures and videos he shares on his social media, @nick.grow.420.
Nick began his growing journey because of the driving costs of medical marijuana that he uses daily for his disability. He currently uses the VIVOSUN 4×5-foot, 2-in-1 tent with a VS4300 and an HCF1600 for lighting. Nick strives for quality in his grows, using his degree in horticulture to guide him to continue to improve as a professional grower. Currently, Nick is experimenting with auto Gorilla Glue #4 while listening to old-school rock or Reggae, usually growing in soil, however he is interested in exploring more growing techniques. It is Nick's hard work, patience, and sincere enthusiasm that makes us proud to call him one of us.
Q:
Which VIVOSUN products do you use? What is your favorite piece of equipment?
A:
My first tent was the 4×4 all in one kit, which I left with my former housemate. My new tent is the 4×5 2-in-1… How do I choose a favorite???
Q:
How long have you grown weed and/or smoked for?
A:
Smoked for forever, but most significantly for the last 6-8 years for chronic pain. I've been growing only for 7 months now.
Q:
Why did you decide you wanted to start growing cannabis? Or why do you grow (fun, relaxation, medicine, etc.)?
A:
I use a lot of medical marijuana on a daily basis which is very costly, especially being disabled. The funny thing is I have a 4 year degree in horticulture… why wasn't I [growing] sooner?!?
Q:
What is your favorite strain?
A:
That's like asking which one of your children is your favorite   but GG 4% GSC are always at the top of the list.
Q:
What's your specialty? Organic, mostly organic, or hydroponics?
A:
…What do they say? Don't panic, it's organic!! Organic soil grown
Q:
Auto, photo, both, or regs?
A:
Started with autos, running both now to see if I have a preference. Have a feeling I'll be running both for a while.
Q:
Quality or quantity?
A:
QUALITY BABY!
Q:
Biggest yield on one plant?
A:
Little over 3.5oz each off an auto Pineapple Haze Sorbet and a GG4
Q:
Do you have a short funny story about growing or being stoned that you would like to share?
A:
Oh man… You know stories about being stoned are never short! I can say that I've found it way too hard to focus on feeding the girls when [I'm] too stoned, but I also do some of my best trimming & LST training when I'm in the zone.
Q:
Favorite stoner movie and song (it's ok if it's not a stoner movie/song)
A:
… Hmm… Pineapple Express? Music can be [anything from] old school rock to newer reggae. I'm always streaming music, but suck at remembering artists' names.
Q:
Favorite way to medicate? Thinking joints, blunts, pipes, bongs, edibles, etc.
A:
Pretty much all forms of smoking. I like edibles for a good boost but don't like the wait time.
Q:
If you were stranded on an island with an abundance of cannabis, what three things would you want to have with you?
A:
Bottled water, halls sugar free cough drops, and SUSHI.
Q:
What's the one piece of advice you would give to a new grower or what is the one thing you wished someone told you before you started?
A:
Biggest piece of advice is this mini rant… Stop! Just chill for a minute if you're new at this. Do the research and wait until you have the means to start with the right equipment! It really makes a difference.
Join our Facebook farmer's community to grow along and be our next featured grower!