We are very pleased to announce the restock of our newly patented clip-on fan, the AeroWave A6. Our patented square-shaped rubber padding fits this fan on any type of pole—the rubber is firm yet pliable so whether the pole square, circular, or somewhere in between the AeroWave A6 won't slip or scratch the surface it's mounted on. The AeroWave A6 is perfect for grow tents, meaning you can situate your fan in the best position to provide airflow throughout your space. This 6-inch clip-on fan is fully adjustable with 80° horizontal and 120° vertical oscillation; the AeroWave A6 will provide fresh air wherever you need it.
Compact and portable, the AeroWave A6 works well in high humidity and is extra powerful with a 20W copper motor yet produces only 40 dB of noise so its operation is both ultra-quiet and ultra-strong and can be used anywhere without causing a distraction.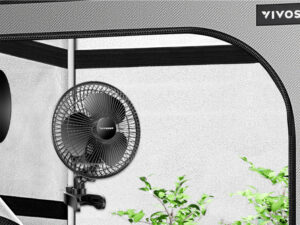 The VIVOSUN AeroWave A6 is the perfect addition to any grow space that needs better circulation, large or small. It also works well in offices, beneath covered patios, for pets, or just to help you cool off on a hot day. We designed the AeroWave A6 to specifically address the needs of growers but we have found a ton of other uses for it, and we think you will too.
What makes the AeroWave A6 different from other clip-on fans in the market is our patented external and internal design and craftsmanship that reduce wear-and-tear. Improved rubberization of the clamp is dense enough not to degrade yet light enough to form around a pole or crossbeam. Internal components are organized to allow for smooth rotation without disruption or excess noise. Additionally, we wanted to make this device more user-friendly, so we made it easy to take off the grill and to be able to clean the blades. We know you'll find the AeroWave A6 to be an excellent addition to any tent.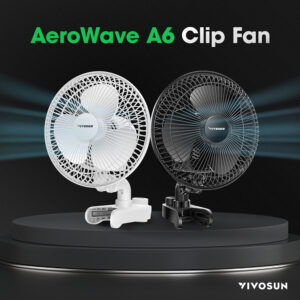 Subscribe to VIVOSUN newsletter for growing tips, grower stories, special offers and get 12% off your first order!
We love the new VIVOSUN Smart Grow System and we are certain that you too will love it once you try it.
And join our Facebook farmer's community for even more exclusive contests and prizes!
Download VIVOSUN App and explore more!