Did you just receive your new grow tent but have no idea how to set up a grow tent? Then you are at the right place! We wanted to put together a detailed article teaching how to set one up. Hopefully, this will be the last guide you'll ever need for building one of our grow tents.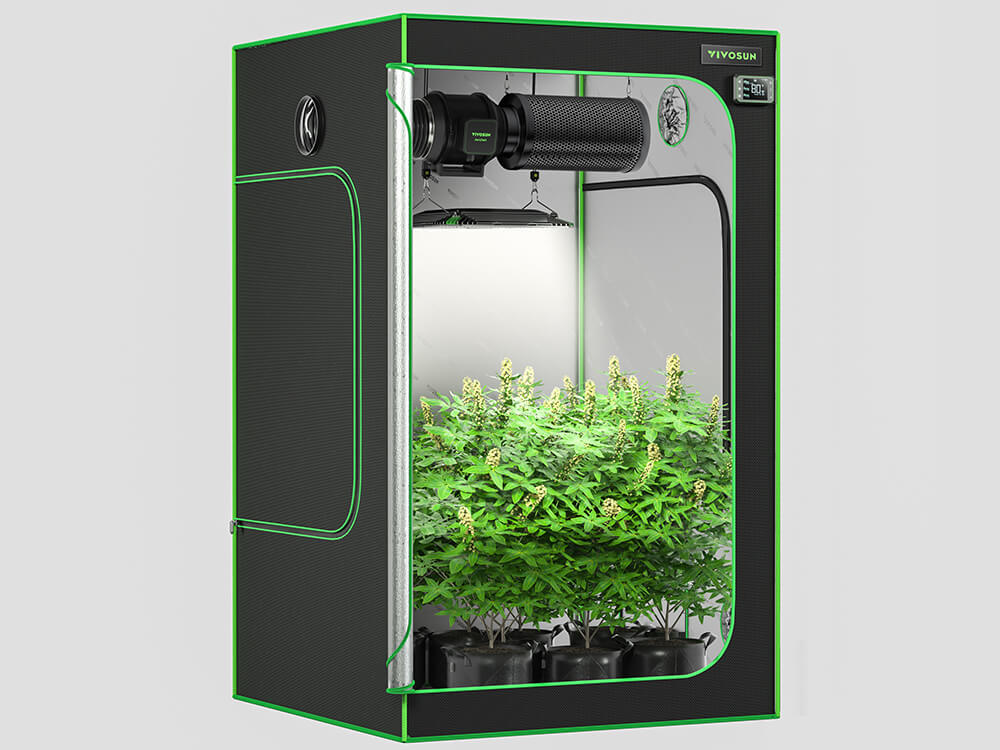 Why do you need to set up a grow tent? – How to set up a grow tent
Grow tents are a great substitute for growing outdoors since you'll have a controlled space to simulate the perfect environment for your plants. Here are some benefits of using a grow tent:
Grow tents allow you to control light, humidity, diurnal cycles, temperatures, and pests, and to be able to monitor everything carefully so you can calibrate as needed. This way, you'll be able to grow year-round at super high efficiency.

Outdoor growing is great, but finding the best spot beneath the sun and sustaining your plants through the winter can be a major challenge.

Grow tents are hyper-local! You'll be able to sustainably grow any kind of plant or vegetable without adding extra plastic and international shipping like when you purchase from the grocery store.

All in all, compared with growing outside, growing indoors has a number of advantages to growing outside, especially if you live in an apartment or do not have access to a yard. Indoor growing is rewarding and a lot of fun!
Sizes of grow tents – How to set up a grow tent
VIVOSUN grow tents are divided into multiple types: small standard, medium standard, large standard, 2-in-1 grow tent, roof grow tent, and grey grow tent. VIVOSUN has different sizes of grow tents, meeting most of the needs of growers.
Once you have decided which grow tent works for your space, you'll need to find the right grow light, inline fan, carbon filter, and ducting while fine-tuning plant growth cycles and stages of growth. For quick reference, our most popular grow tent is the VIVOSUN 4×4 grow tent, which grows 4-6 plants comfortably—this is probably your target, as most states only legally allow a home grower to grow within this limit. This size tent is small enough to fit pretty much anywhere, even in your bedroom if you like a little nighttime white noise.
Usually, most growers opt for an LED light system, a fan, and a filter with their 4×4 grow tent. However, if you are just starting off and don't have a lot of space for growing, a 2×2 grow tent is another great choice: Depending on their size, you'll be able to grow between 2-4 plants. Our VIVOSUN 2×2 grow tent is also usually used as a mother tent, which allows you to keep your plants in Veg for extended periods while more mature plants are flowering.
If you are thinking of a bigger grow tent, take a look at the 5×5 grow tent. Compared with a 4×4 grow tent, you can grow 9-12 plants.  More experienced growers might want to opt for the 5×5 grow tent, which has enough space for specialized equipment, and hydroponics equipment, and is large enough to spend a bit of time in. Finally, we also offer a 10×10 grow tent that can hold around 24-32 plants and is for advanced growers who have more experience in the field, so to speak.
Unboxing your grow tent – How to set up a grow tent
For the rest of this post, we're going to take the VIVOSUN 4×4 grow tent as an example. When first opening the package, you should have 19 individual frame pieces, 1 canvas tent, 1-floor tray, 2 filter straps, and 8 corner supports. If you're missing any pieces please contact us right away and we'll help you find a solution.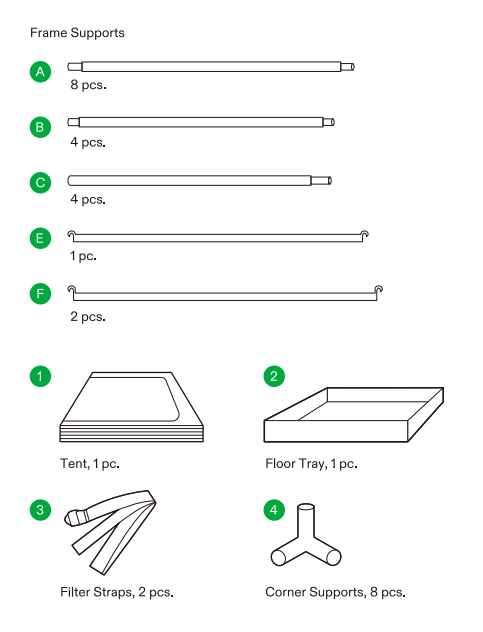 How to set up a grow tent?
At first glance, it might seem difficult to put together since there are so many pieces, but I promise it's not as difficult as it looks. If you want a visual guide, please check out our VIVOSUN Grow Tent setup and installation video for a quick and easy reference.
Step 1: Connect the corner pieces to the A poles and form the base of the tent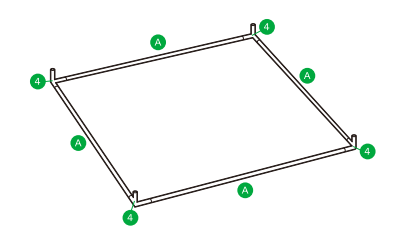 Step 2: Attach the B poles to the corner pieces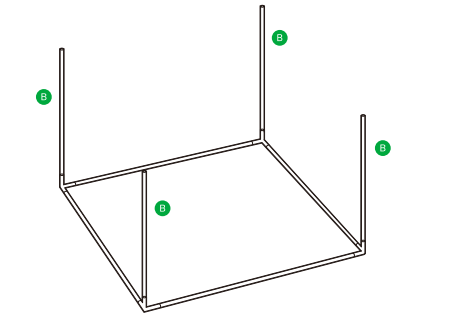 Step 3: Connect the C poles to the B poles and you'll have made the sides of the tent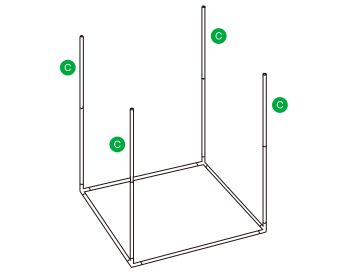 Step 4: Next, add the corner pieces to the top of the C poles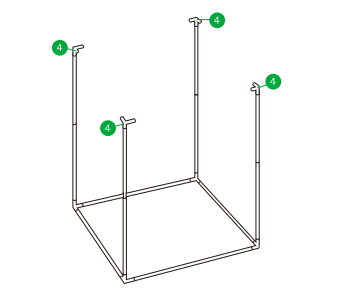 Step 5: Now, add the A poles to those top corner pieces and connect each corner piece together with those A poles to form the top frame. Now you've put together the skeleton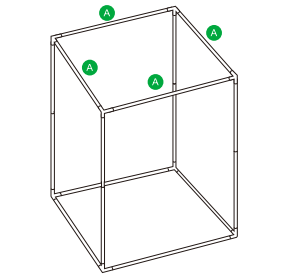 Step 6: Next, lay out the tent so that the bottom of the tent is flat. Place the tent skeleton inside of that bottom piece. It will be snug, so try fitting the corners in first and then pull the rest of the canvas around the other sides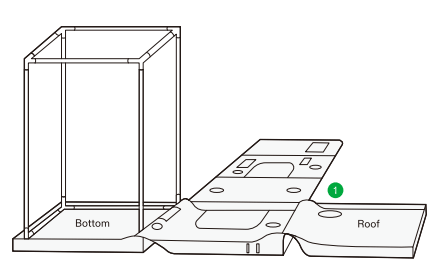 Step 7: Lift the canvas up and pull it over the top of the skeleton frame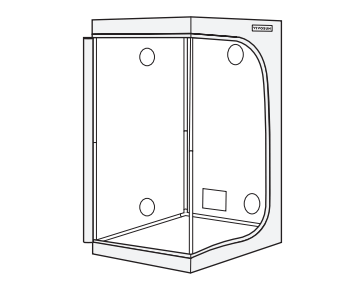 Step 8: You'll need to connect the E pole and F poles to the A poles in order to strengthen the tent support. Check out the picture and you'll see that the E pole and F poles are crossed. The E Pole is a light bar and the F poles are the heavy bars. These poles can be used to hang heavy equipment such as an LED light and the fan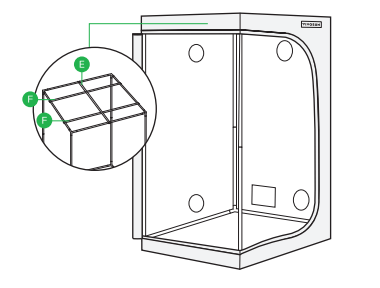 Step 9: Put the floor tray into the tent. This will help catch any dirt or water that spills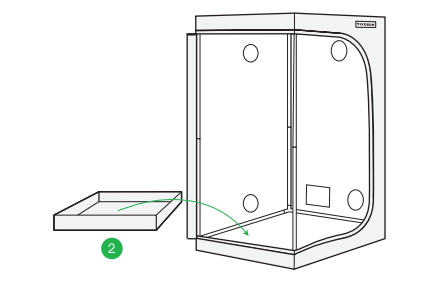 Step 10: Zip up the door, and you're finished! We've added a couple of extra features like a viewing window, a door, and a couple of ventilation ports and ducting ports to make the whole installation and operation a lot more convenient.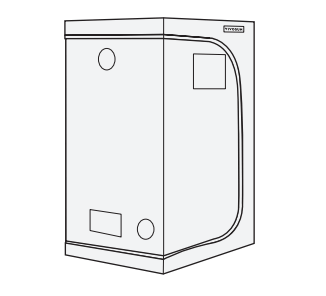 That's it! Your grow tent setup is done. The whole process usually takes us between 10 and 20 minutes. Keep in mind, learning how to set up a grow tent is just the first step in the process of becoming an indoor gardener. Next, you'll have to install your lighting and ventilation and any other equipment you might need.
If you have any questions, please don't hesitate to reach out to us!
And be sure to check out our other blog posts for useful tips on becoming a great grower!
Subscribe to the VIVOSUN newsletter for growing tips, grower stories, and special offers, and get 12% off your first order!
We love the new VIVOSUN Smart Grow System and we are certain that you too will love it once you try it.
And join our Facebook farmer's community for even more exclusive contests and prizes!
Download VIVOSUN App to get 18% off and explore more information!